Stronger than Cancer! Walking 60 miles to fight for a cure!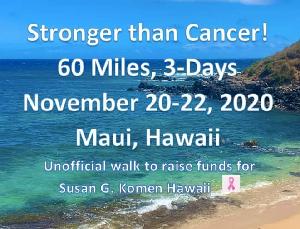 Aloha,
.
Thank you for visiting our fundraising page. For those of you that don't know us, we are two breast cancer survivors that live on Maui and have committed to walking 60 miles in 3 days to raise awareness that the fight against breast cancer is still going... even during a pandemic.
.
My name is Linda Lafragiola, a 9-year survivor. I planned on participating in two Susan G Komen 3-Day / 60-mile events this year (Chicago and San Diego), but because of Covid-19 all of the 3-Day events were cancelled for 2020. I have previously walked eleven 3-Day events (that's 660 event miles, so far!) and that doesn't count the thousands of miles I've walked training for the events. I am currently registered for two 3-Day events in 2021, but it seems like so far from now.
.
Walking along side me is my friend Connie Magnuson, a 5-year survivor. Connie has decided to join me and walk all 60 miles to celebrate her 5 year anniversary of being cancer free. Something not all breast cancer patients can celebrate.
.
Why 60 miles here on Maui, you ask?
.
Some of my 3-Day friends decided to walk 60 miles where they live in 2020 to help raise awareness that the fight against breast cancer has not stopped because of the pandemic. Everyday men and women are still hearing those awful 4 words that will change their lives forever... "You have breast cancer."
.
I thought "Hey! I can do that here on Maui!" and with this commitment in mind, our "Stronger Than Cancer" walk was born. Connie and I will be walking 60 miles in 3 days. November 20-22, 2020 here on the beautiful island of Maui on the same week-end I was supposed to walk 60 miles in San Diego.
.
We decided to raise funds for Susan G Komen Hawaii after speaking with the local chapter about our "unofficial" 3-Day walk. It was brought to our attention that there is a huge need right here in Hawaii, especially with so much unemployment right now (basically because all of tourism is shut down) and many people having lost their health insurance. This is a huge problem since there are women (and men) out there needing life-saving treatments or even something a simple as a mammogram and won't know where to turn and this concerns us. It is a known fact that early detection saves lives... we are living proof.
.
With this "unofficial" event we are raising awareness and money for Susan G. Komen Hawaii and your contribution will make an impact, whether you donate $5 or $500. Every little bit helps. Won't you help us save lives by meeting the most critical breast health needs in our community?
.
Mahalo for taking the time to read why we are walking. It all comes down to the fact that we walk because we can't walk away...
.
Mahalo for your support!
Linda and Connie
View More